After obtaining a Master in Economies, she specializes in marketing as well as in development rights. She obtains in 1991 a Ph.D. in Law and Economy of development on the following theme: Promotion of new and renewable energies among the priorities of a development strategy in sub-Saharan Africa.
Marie-Claire has been a business engineer and then chose to exercise as a lawyer.
Nowadays, she is concentrating on business clientele and on their international transactions and intellectual property. She is also specialized in immigrating rights and foreign investment. She speaks several languages such as French, English, Russian, Persian and Armenian.
Moreover, she is in charge of teaching at the University of Nice-Sophia-Antipolis and gives law and economy class. She also provides distance learning on the CANEGE network. She gives conferences and takes part in seminars and symposiums about international right of environment and energy.
Marie-Claire is an active member of the board of directors of the Association Femmes 3000 Côte-d'Azur which has been founded in Sophia-Antipolis and organizes seminars and expressions guided by girls' education, women promotion and equality.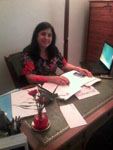 Areas of activity
Business law
 Computer law
Conflit of law (private international law)
Contract law
Copyright law
Company law
Cyber law
Immigration law
Intellectual property law
Patent law
Common law